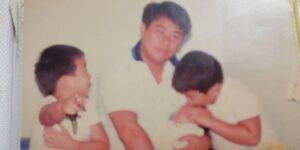 Last week was particularly tough, and i spent the weekend just doing my weekly stuffs.
On top of that, i spent 2 hours sitting on my ass, meditating. My thoughts, my heart, my soul is just thinking of this one man.
Dear Papa,
I miss you so much.
You would have been 65 this year. I miss your voice, miss your loud snoring, miss all your home cooked food. Miss your "i love yous"
I want to tell you, I'm sorry i didn't choose to come back and see you one last time, and couldn't make it to be successful before you died. You probably would have forgiven me, I can't forgive myself.
My life, is driven by time right now, I leave nothing important unsaid and nothing is more important than my family, a lesson i have to learn the hardest way. I hug everyone i love, I always second guess my feelings, because i have no idea when is the last time.
If you can see me, from where ever you are. Know that i love you still, so much. And i probably think about you almost everyday , i miss you so much it hurts. Almost wanting to pass through life, the best i can, so that when i see you, i have SOOOO many stories, and experiences, that i can share with you.
I love you so much papa. I wished you can be here, or maybe just come to me in my dreams. Or send me someone, to let me rest for a while. Just a shoulder to lean on for a while.
Love,
Van.